THE MAGNIFICENT NINE – NORDIC CHEFS' MEETING AT HOTEL FREDERIKSMINDE
Nine very talented Nordic chefs from Denmark, Sweden, Faroe Island, yes, even from Paris come together to cook at 1*Michelin Frederiksminde at the idyllic countryside of South Zealand, a mere hour's drive from Copenhagen.
_________________________
On Sunday October 13th no less than nine talented chefs takes Alice's journey down the rabbit hole, away from the noisy and bustling streets, and instead into the bright blue skies and tranquil scenes of the provincial town of Præstø – the home of Hotel Frederiksminde, surrounded by huge romantic gardens just 100 meters from the seaside.
C H E F S
Poul Andrias Ziska, KOKS (2*), Leynavatn, Faroe Islands
Gabriel Hedlund, Vollmers (2*), Malmö
Kristian Baumann, 108 (1* – W50B #89), Copenhagen
Andreas Møller, Copenhague (1*), Paris
Rainer Gassner, Ti Trin Ned (1*), Fredericia
Kamilla Seidler, Latin America Best Female Chef 2016, Lola, Copenhagen
Torsten Vildgaard, Former Ex. Chef/CDC, Studio/Noma (1*/2*), Copenhagen
Henrik Jyrk, IBU, Copenhagen
Jonas Mikkelsen, Hotel Frederiksminde (1*), Præstø
_________________________
Each chef makes a signature dish, and all these in a grand menu combined bubbles, snacks, wine menu, coffee/tea and sweets is offered to aficionados and feinschmeckers at the favourable Danish countryside price of 2950 DKK (€400,-).
Should you be interested in one or more seats for this great culinary evening at the idyllic Danish countryside, please press here.
_________________________
F R E D E R I K S M I N D E
The Danish capital Copenhagen has for a decade been hailed as the holy grail of innovative and experimental food, that leaves a gaze of excitement on diners and critics alike. With the size of the country only just surpassing that of the state of Maryland, and a population just below 6 million, one could easily be oblivious to what the rest of the country has to offer.
This was evident with the people behind the Michelin guide, as they didn't venture out of the large cities until 2016 – not coincidentally the year that Frederiksminde and chef owner Jonas Mikkelsen received their first star.
Located just an hour's drive south of Copenhagen, even the trip to Frederiksminde feels like Alice's journey down the rabbit hole.
The noisy and bustling streets of the Danish capital slowly give way to bright blue skies and tranquil scenes, until finally you reach the provincial town of Præstø. And as soon as you step out, you realise that this is not just a feast for your stomach, but also one for your soul.
Jonas Mikkelsen in one of his gardens at Hotel Frederiksminde
Since 2010 Jonas Mikkelsen has been steering the kitchen, making it one of the top restaurants in the country, and many believe that Frederiksminde was one of the key factors in the Michelin guide finally expanding their horizons.
Frederiksminde is definitely the polar opposite of the standard Copenhagen fare. Præstø is a small coast town in the south of Zealand with only 4000 habitants. The restaurant is part of the Frederiksminde Hotel; a historical building surrounded by green parks, an amazing view of the sea and beautiful, classic yet modernised town houses. You couldn't ask for a more idyllic setting.
The location is 100 meters from the seaside and the city itself is calm and romantic. It has a have a huge garden where much of the used produce is grown, like different cabbages, carrots, potatoes, radishes, edible flowers and herbs. So when you dine at Frederiksminde, you taste the surroundings.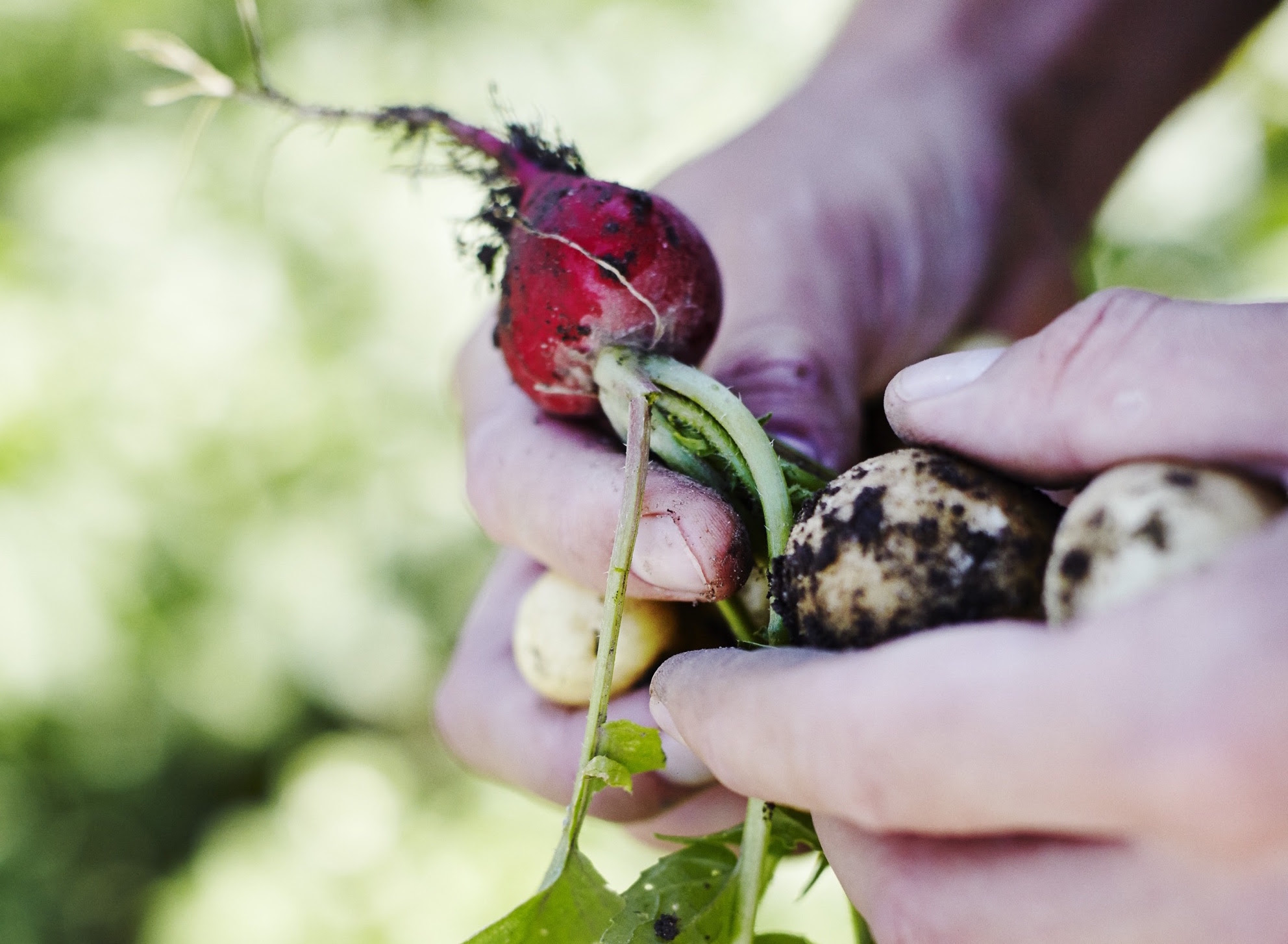 ____________________________
The serene surroundings also feed Jonas Mikkelsen's creativity when it comes to creating his menus.
With so many of their ingredients being grown in-house, and a handful available by foraging the nearby surrounding forests for mushrooms and berries, it is often the weather conditions that dictate how the menu is assembled as it's impossible to control the speed of the growth, and sometimes an abundance of radishes will grow.
This in sync with nature forces to think creatively on how to incorporate these in dishes, without it becoming repetitive and compromising the quality. And always with a great focus on vegetables. Although being regarded as one of the best restaurants in Denmark, Jonas Mikkelsen doesn't label the food as typical New Nordic, as one could expect:
"We have definitely been labelled New Nordic, but I don't think we are. We aren't a dogmatic kitchen and I also use ingredients like truffles and Iberian ham, but we do primarily use local produce, and that is one of the expressions of the typical Nordic kitchen", he explains.
Jonas Mikkelsen doesn't care much for labels and instead focuses on the craftsmanship and thought behind the execution. His vision for Frederiksminde has not changed, since he first sharpened his chefs knives there for the first time nine years ago; "To be among the very best in Danish gastronomy. At this point it's only my own abilities that set the limits for what we can do at Frederiksminde", he says.
So next time you are in Copenhagen, take a trip down the rabbit hole to Præstø and visit Frederiksminde, to feed both your body and your soul.
____________________________
A Masterful Kitchen by the Fjord – White Guide
An Unforgettable Evening at "Mindet" – Anders Husa
Hotel Frederiksminde: A Feast for Body and Soul – Honest Cooking
Bon Vivant Communications is a global gastro embassy specialising in culinary diplomacy for star chefs and restaurants, exclusive dinner parties, star chef world tours, luxury resorts, cultural marketing, filmmaking and entrepreneurism.
The diplomacy speaks to a strong network of 600 journalists, bloggers and writers, as well as 5000+ global diners around the world.
____________________________