BON VIVANT BECOMES PARTNER OF 2*MICHELIN JORDNÆR IN COPENHAGEN
Bon Vivant has entered a business partnership with the two Michelin-starred, Copenhagen restaurant Jordnær, that has taken the culinary Nordics by storm within a short period of time.
____________________________
PERSONAL ANNOUNCEMENT
I am very pleased to inform that Bon Vivant has entered a business partnership with 2*Michelin-starred Jordnær in Copenhagen.
The alliance doesn't change anything in the daily work and/or relations. Bon Vivant represents the restaurant strongly as up to now, though of course, even more dedicated than through the past 10 months' collaboration which have been very successful to put it mildly.
We are now family.
However, with this partnership, Bon Vivant will no longer represent any other restaurant in the mainland Kingdom of Denmark. Though my country of origin could easily be a source of future other earnings, this is a commitment I am happy to – and should make. A lion heart recognises this.
My only counter wish has been that no service happens at Jordnær without chef Eric Vildgaard being present in the kitchen. At least not until after a third Michelin star is achieved, which every fiber in my chubby-muscular gourmet body tells me Jordnær receives as the next restaurant in Denmark.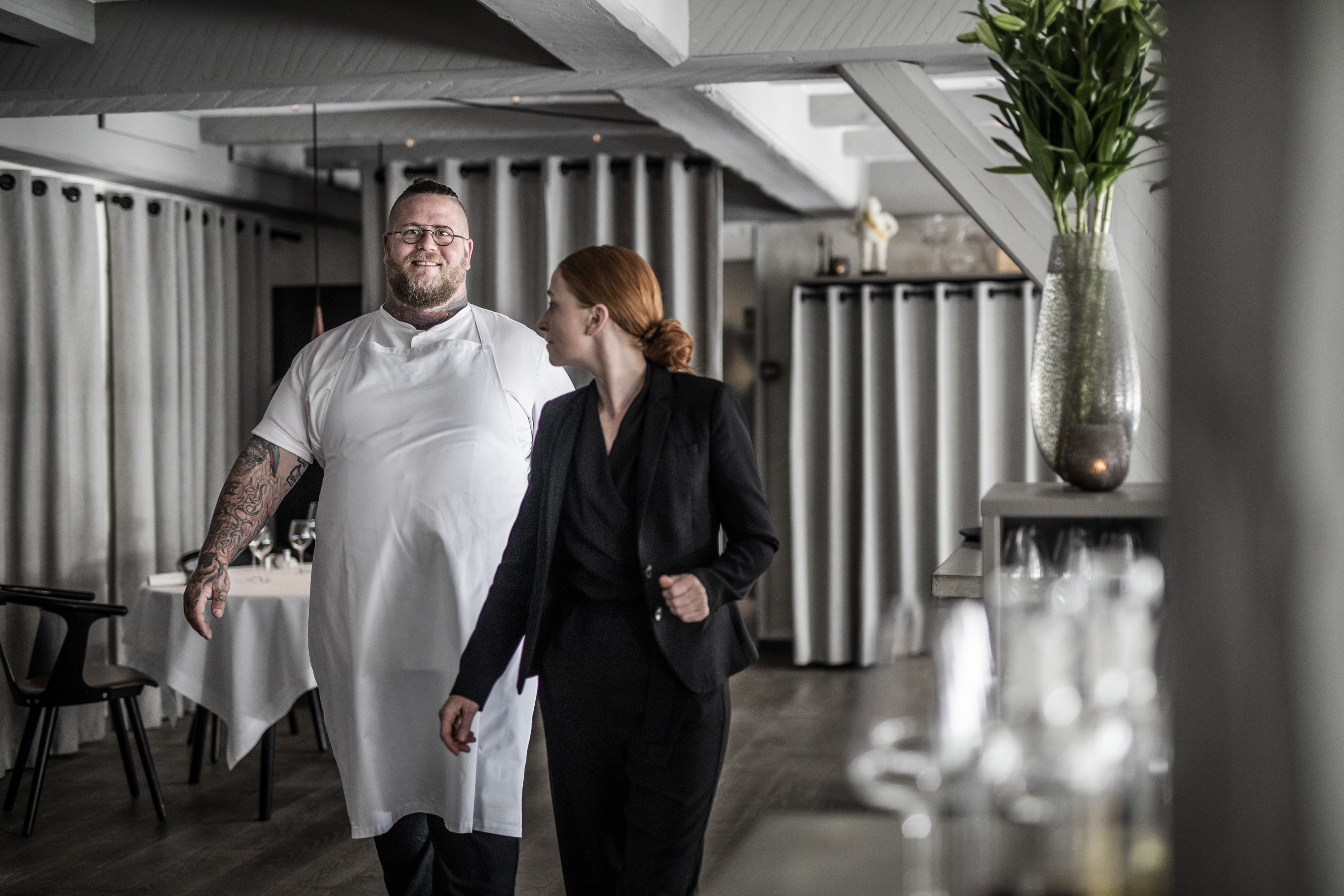 Tina and Eric Vildgaard at Jordnær in Copenhagen
____________________________
As it turns out, my wish wasn't needed as Tina & Eric Vildgaard already share this philosophy and attitude towards future work and – as I see it – greatness. It's no secret that this determined couple with six kids are loved by all and the success created is based on their drive, experience, excellence and utter heart warmth desire to make their guests feel special.
This shines through in everything they do.
On top, they are 100% self made without any (nor the need of) outside investors in order to make excellence happen. As a former restaurateur with 25 years of experience at numerous levels and roles within the world of fine dining, this is something that appeals tremendously to me and what I always have characterised as the true art of running a top restaurant;
That you create your personal vision of a beautiful moment; like movie scenes that you stage, where you cook the very best you have learned, serve and match it with beautiful wines while offering your guests a culinary gap in time where they lean ten centimeters back and fall in love with the experience, their lives and each other.
This is the essence while the restaurant makes a healthy profit in order to take care of its loved ones and keeps pushing forward. This is the true art form and shows the restaurant is an all-round healthy, strong enterprise maximising its true potential.
This is why I have chosen Jordnær and why they have chosen me. We're on the same page. It's a win-win. Bon Vivant loves Jordnær. A lot.
Kristian Brask Thomsen
____________________________
Hungry for more? Dig into Jordnær – A Love Story.