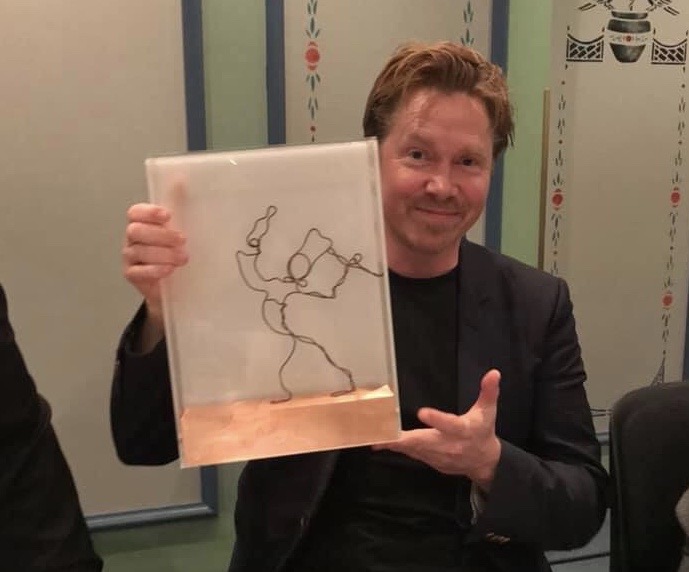 Sunday evening Restaurant AOC was awarded as "Restaurant of the Year" in Denmark by The Danish Dining Guide (Den Danske Spiseguide) amongst a strong group of fellow nominees;
Noma, Kadeau, Frederikminde, Molskroen and Pasfall.

_________________________
Chef owner Søren Selin (photo above) states:
"This is a great culmination of a good year. To be awarded this in such a strong field of restaurants makes me very happy. It came unexpected as we in general try not to make too much fuzz about ourselves. At AOC the raw materials are the stars, not me."
AOC's founder, champion sommelier Christian Aarø adds: "Søren is too modest. Of course he is a star. He and his team creates extraordinary dishes, also out of quite common products. His magnificent onion creations are great examples of that."
"But I wish to thank the entire team at and around AOC. Chefs, waiters, dishwashers, sommeliers, managers, friends and suppliers. This prize is the result of a joint effort. And of course our many returning guests. We very much like to spoil them."
AOC was nominated in four categories and took home the main prize.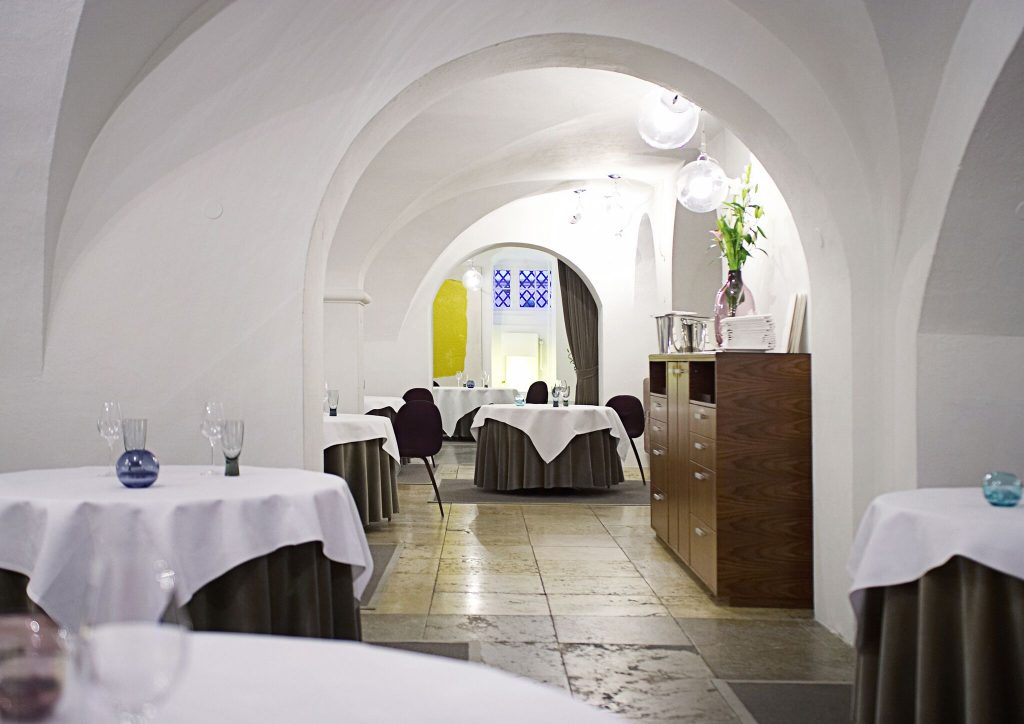 _________________________
A B O U T A O C
It's not often you walk into a restaurant with two Michelin stars located in a mansion and find that it smells just like home. But walk through the doors of AOC and the smell of wood smoke and reduced bouillon of Jerusalem artichokes hits you like a double shot of aquavit. Result; an instant hunger-rousing welcome to anyone who loves good food.
AOC is serious stuff. Ancient arches and low lights and a 17th century cellar shape the dining room into the most elegant basement you've ever seen. Home of Chef Søren Selin who creates artistic, curious, and playful menus while always maintaining a high comfort and yumminess that keeps your palate safe.
Add to this Champion Sommelier Christian Aarø's superior knowledge of wines that results in tantalising flights that often embraces both old, young, conservative, edgy, conventional and organic wines in great storytellings for your palate; servers that charmingly walk you through the minutiae of the menu as if they've spent a lifetime preparing the dishes themselves.
Meanwhile AOC is a grand restaurant that allow guests to unfold their personalities throughout the night rather than being mere spectators to a chef's egotrip on plates. It's a great place to throw a fun-loving dinner party and an experience you want to relive.
____________________________
W H I T E G U I D E
This week was award week in Copenhagen and on Monday, yesterday, White Guide for Denmark was likewise released. Here AOC was awarded with the best wine experience of the Danish Kingdom, which in itself is remarkable as especially Copenhagen in recent years has experienced a greater expansion of impressive wine lists supported by grand private collections of millionaires.
AOC's wine list and program is solely collected and created through decades of experience by AOC-founder Christian Aarø, who three times has been Danish Sommelier Champion and following Nordic Champion, before he retired from competitions and instead dedicated his time to being President of Danish Sommelier Society next to running three restaurants. Restaurants he co-owns with Chef Søren Selin independant of outside investors.
Christian Aarø's great knowledge of wines results in tantalising flights that often embraces both old, young, conservative, edgy, conventional and organic wines in great storytellings for guests' palates.
Champion Sommelier Christian Aarø captured in his wine cellar.
____________________________
Bon Vivant Communications is a culinary embassy representing star chefs and restaurants, chateaux and high-end wineries as well as working close together with various luxury hotels, gourmets festivals and bespoke concierges services.
The diplomacy speaks to a strong network of 600 journalists, bloggers and writers, as well as 5000+ global diners around the world.
____________________________
Hungry for more? Please view AOC's website here.