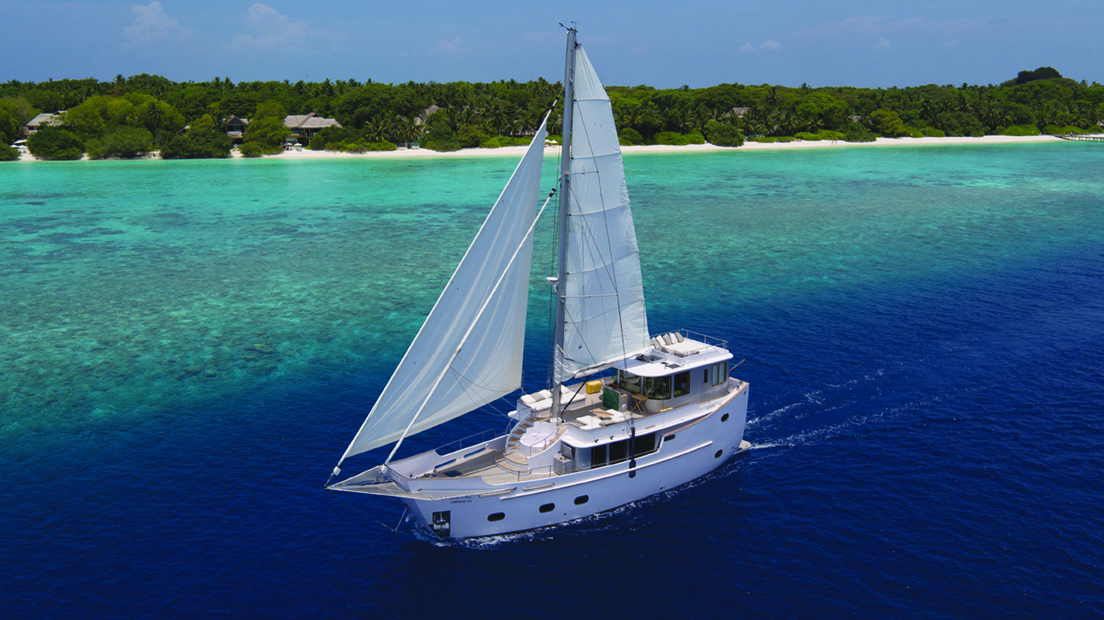 The definition of luxury is something that is a rarity, and in today's society that is peace, time and space. Luxury is about feeling the sand between your toes and dinner under a canopy of a billion stars. It's about reconnecting with yourself and the natural environment with experiences that are as far removed from the urban environment as possible.
With an intention to provide real luxury and experiences that are both rare and strike a chord in your heart, we present you Soneva – three dazzling resorts; two in the Maldives, one in Thailand.

________________________
T H E M A L D I V E S
Imagine being dropped off in the middle of the Indian Ocean, then picked up by a seaplane and flown across different shades of clear turquoise water, coral islands, beaches, blue lagoons and extensive reefs, before you like a secret agent on holiday smoothly slide down to the water just outside a private island, hand over your socks and shoes and jump into a big speedboat that takes you into the shores of the original desert isle hideaway in the Maldives – to paradise.
Welcome to Soneva Fushi – one of the few resorts that has it all: service, laid-back luxury, captivating beauty, outmost privacy and a slow life attitude. One of three mesmerising resorts created by Sonu and Eva Shivdasani; Soneva Fushi and Soneva Jani both in the Maldives, and Soneva Kiri at Ko Kut-island in Thailand. All three resorts that endorse barefoot luxury with the ever so appealing philosophy:
"no news, so shoes".
It's with the outmost pleasure we can inform that Bon Vivant from Summer 2019 represents Soneva on culinary matters and welcome these dazzling resort jewels into our global family of star chefs, gourmet restaurants, famous dinner parties, fun-loving food festivals and culinary filmmaking.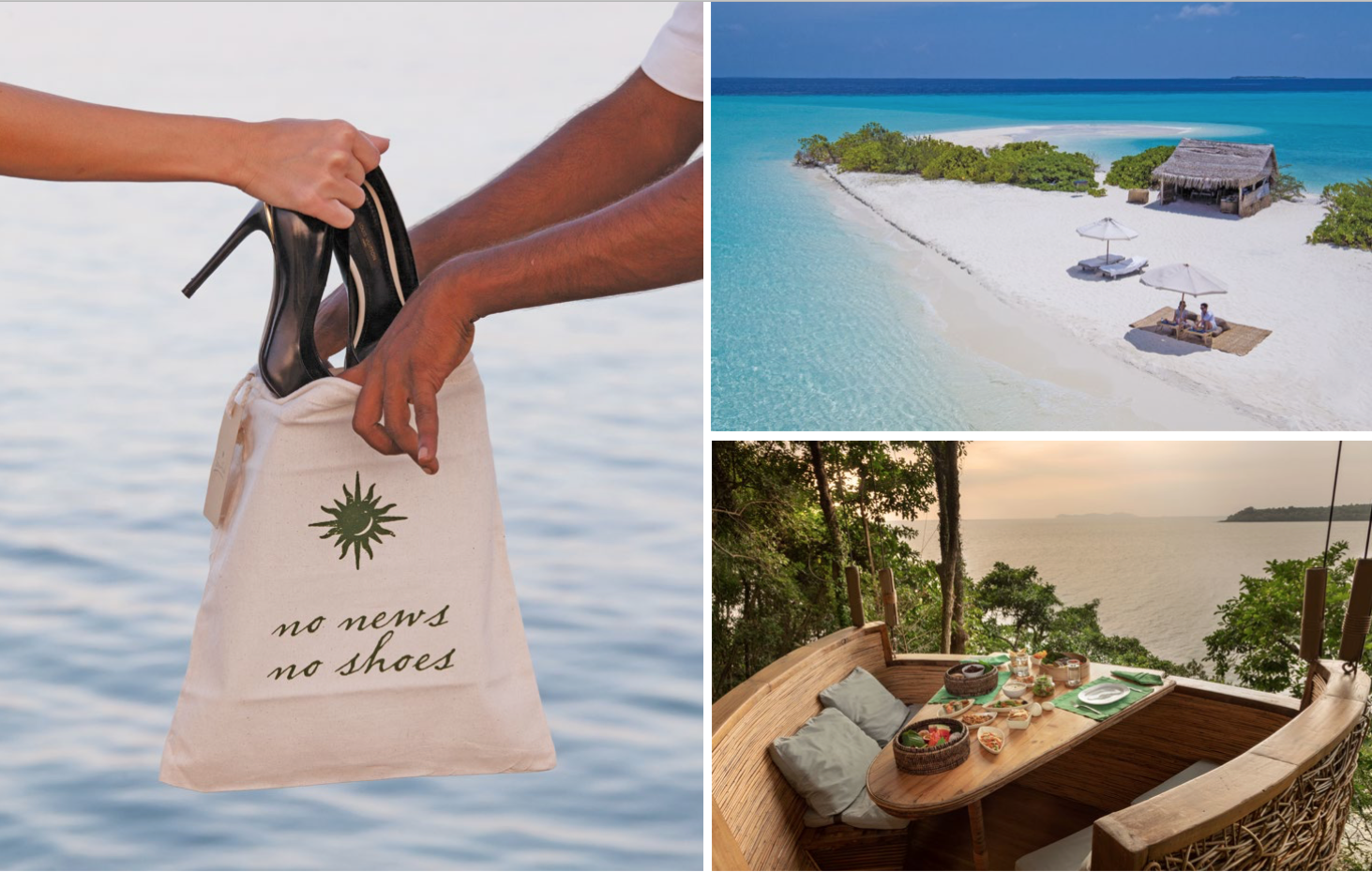 _______________________
U N I Q U E D I N I N G
Besides the hundreds of things that makes Soneva Fushi special; from its intelligent luxury, great sustainability, unbelievable Robinson Crusoe-villas, countless leisure awards and activities – we could go on – then Soneva has created a long variety of quite remarkable culinary projects too.
The vegetarian "Fresh The Garden" where you can dine high above the luscious gardens and smell the aromas of the herbs waft up from below. The central open kitchen gives you front-row seats to the action. Choose to sit under cover or up in treetops beneath the starry night sky. It's magic.
Or "So Hands On" – a six seat sushi counter run in partnership with Chef Kenji Gyoten of three-starred Michelin Sushi Gyoten in Fukuoka, Japan, whose restaurant has a waitlist of a year.
And "Once Upon a Table" (they have a way with names) – a culinary theatre showcasing some of the biggest names in fine dining. There is no menu, allowing the creativity and skills of the visiting guest star chef to take centre stage.
Like its excellent sibling Soneva Jani offers a long range of culinary pleasures.
One of those "So Engaging", their chef's table, which offers a mystery menu for five very special guests only, where you from a front row seat to the action can converse with the head chef as he prepares exciting, delicious dishes for his guests of honour.
Perhaps get the munchies at "The Crab Shack" that includes an upstairs deck to watch sunsets from. Including dishes such as the Sri Lankan Mud Crab curry, or the Alaskan crabs that rotate through the week. The Crab Shack is voted as the 'World's Most Romantic Restaurant' by CNN.
Or join the monthly "Full Moon Dinner" – a unique dining experience prepared only once a month in celebration of the full moon. Satiate your appetite with dinner under a glowing moon, served on the sandbar of resort's beach.
_______________________
F E S T I V A L O F C O L O U R

Like at Soneva Fushi intriguing culinary options are more than plenty at Soneva Jani. Indeed also because of "Festival of Colour" that makes this year a great time to visit Soneva, as it celebrates a diverse array of guest activities and experiences on offer, ranging from visiting Michelin-starred chefs and astronomers, through to authors, champion free-divers, artists and more.
Each month of the year is associated with a different colour and theme, which will be brought to life at Soneva's resorts through special on-site events and collaborations. Underscoring the Festival of Colour is a series of short "colour" films created by the renowned French film director Bruno Aveillan, who was inspired by the different colours he discovered at Soneva.
Upcoming star chefs at Soneva Fushi and Soneva Jani are amongst others:
Jerome Banctel of 2*Michelin Le Gabriel, Paris, Kenji Gyoten of 3*Michelin Sushi Gyoten, Fukuoka, John Burton-Race of 1*Michelin New Angel, Dartmouth, Julien Royer of 2*Michelin and "Asia's 50 Best Restaurant" Odette, Singapore, Maxime Meilleur of 3*Michelin René et Maxime Meilleur, Saint-Martin-de-Belleville.
Gregoire Berger of Ossiano (the underwater restaurant at Atlantis), The Palm, Dubai, Giancarlo Perbellini of 2*Michelin Casa Perbellini, Verona, Yoann Conte of 2*Michelin Yoann Conte, Veyrier-du-Lac, Bart De Pooter of 2*Michelin Pastorale in Reet, Antwerp and Tim Raue of 2*Michelin Tim Raue, Berlin.
View more via this link to "Festival of Colour" about the chefs, astronomers, authors, champion free-divers, artists, directors and other notabilities that visits Soneva in the Maldives.
_______________________

SELECTED LINKS
WEBSITE : DISCOVER SONEVA LUXURY RESORTS

Guardians of places that have existed long before us, our unique vision is inspired by nature's magnitude, mystery and enchanting beauty.
FORBES: SONEVA KIRI – ASIA'S MOST FUN LUXURY RESORT
In 15 years as a travel writer, I thought I'd tried everything. But until recently, I'd never had to wear a seat belt to have a snack.
NO DESTINATIONS : SONEVA JANI – A MODERN LUXURY RESORT
There are many luxury hotels in the Maldives, but Soneva Jani's exceptional amenities paired with its commitment to sustainability makes it the best.
NO DESTINATIONS: A BAREFOOT LUXURY MALDIVES RESORT
A sustainable paradise surrounded by the Indian Ocean, Soneva Fushi is one of the few resorts in the Maldives that has it all: service, laid-back luxury, and a slow life attitude.
_______________________

In case of interest or/and press please reach out to Kristian Brask Thomsen through ambassador@bon-vivant.dk
Bon Vivant Communications is a global gastro embassy specialising in culinary diplomacy for star chefs and restaurants, exclusive dinner parties, star chef world tours, luxury resorts, cultural marketing, filmmaking and entrepreneurism.
The diplomacy speaks to a strong network of 600 journalists, bloggers and writers, as well as 5000+ global diners around the world.
____________________________